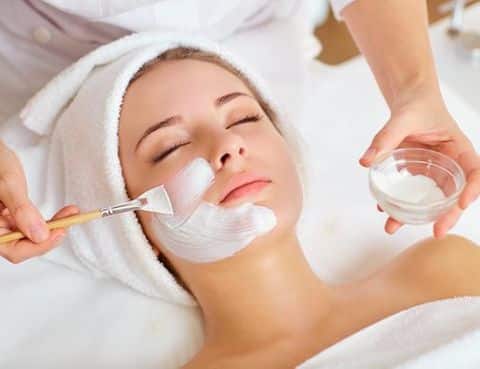 Osmosis Infusion Facial
$150
Impurities? Non, Merci! This customized facial includes specific cleansers, exfoliators, and masques tailored to your skin. It's one of our most comforting and deep-cleansing facials, leaving your skin feeling relaxed and refreshed. Breathe deep and experience the added benefit of aromatherapy – and for the ultimate in relaxation – a European style massage.
This non-invasive tool may be added to most facials to provide a plump and luxurious complexion, improve firmness and elasticity, increase hydration and softness, minimize the size of pores while diminishing the appearance of blemishes, and smooth completion while reducing hyperpigmentation and age spots.
Add on to any facial for only $65!
Pampering your skin while restoring its beauty doesn't have to be mutually exclusive. This unique specialized skin treatment uses a combination of exfoliation, oxygenation, and nourishment to help improve the overall health and appearance of the skin. By targeting all layers of the skin, a Geneo facial provides an instantly visible improvement in tone, texture, and complexion. This facial exfoliates the skin using natural ingredients and oxygen-rich bubbles, while delivering active serums directly into the dermis.
Holistic, non-invasive therapy allows your facial muscles to tone, strengthen, and rebuild themselves. Using low voltage electricity to "work out" facial muscles, and stimulate collagen & ATP cell growth.
Add on to any facial for only $65!
Just For Teens Facial
$85
SkinCeuticals Custom Facial
$135
Revitalizing Eye Rescue
$20
Ask About Our Memberships!
Book Your Next Appointment
with our online booking feature. Beautiful, healthy hair is just one click away.
Massages
Massage enhancements are available at an additional cost. Enhancements include Hot Stones, Deep Tissue, CBD, Arnica, Aromatherapy, Stretching, Paraffin, etc.
Swedish Massage
We firmly believe that Massage is essential to a relaxed, healthy, and balanced life. This is why we offer a beautiful, serene spa experience at a price point that fits easily into your self-care routine. Enhance your treatment with Hot Stones, Deep Tissue, or any of our other massage enhancements for a massage experience that is as indulgent as it is beneficial. Massage increases circulation boosts the immune system and enhances overall well-being.
One-Hour Swedish Massage
$85
90-Minute Swedish Massage
$110
Shirodhara Warm Oil Treatment
An excellent treatment for those experiencing PTSD, insomnia, shift work sleep disorder, jet lag, or general stress since it impacts the nervous system and immediately calms the mind and nerves. Your hour of relaxation begins with your choice of aromatherapies that are infused with warm oil. Relaxation deepens as the warmed oil calmly flows atop your forehead (the third eye). Once the oil has run its course, your therapist will massage any remaining tension from your scalp, neck, shoulders, and feet.
One-Hour Shirodhara Warm Oil Treatment
$105
Reflexology
Transcend the ordinary and find balance and relaxation through the soles of your feet. The holistic method of reflexology is founded on the belief that our feet contain reflex areas that mirror and connect to all parts of the body. Professional techniques use the thumbs, fingers, and hands to apply pressure, reducing stress and bringing the body into balance. Reflexology massage helps increase circulation while relaxing tension and creating balance.
Ask About Our Memberships!
Back & Upperarms
$75 & up
Deep-Line Bikini
$50 & up
Hollywood Brazilian
$85 & up
Book Your Next Appointment
with our online booking feature. Beautiful, healthy hair is just one click away.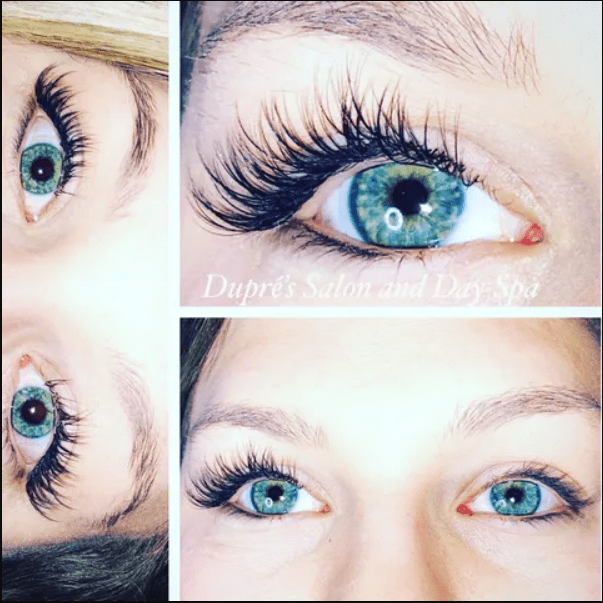 Lash Extensions
Lash Extensions are the perfect solution whether you are seeking length, volume, thickness, or all three! At Dupre's Salon & Day Spa, we use Volume Lashes to create virtually weightless looks that accentuate your lashes. They are individually placed, and a set lasts about 3 weeks before requiring a touch-up.
Lash Lift
Bring your lashes up and out for an awakened & bright-eyed look with a Lash Lift. Lash Lifts by Elleebana use a gentle solution to lift and curl your natural lashes for up to 6-12 weeks. The lifting technique opens the eye area to give your lashes a thicker, longer, more luxurious appearance, with or without mascara. If you want your lashes to pop but aren't ready for extensions, then this is the service for you! This service is vegan-friendly, gluten-free, formaldehyde free and does not contain any fillers. It is recommended that you add a lash tint to your service for extra darkness and definition!