Beautiful Human Hair Wigs
For decades our stylists have been synonymous with the latest in hair trends and innovation. Pairing our new serene salon space with curated treatments was a natural extension of our expertise. Tousle by Dupré's knowledgeable stylists specialize in serving those who have concerns over thinning hair or guests who simply wish to enhance their look seamlessly. Our continual pursuit of excellence allows us to deliver exceptional hair care for every guest, every time. Whether you need to cut, style, color or treat your human hair wigs, Tousle by Dupre's can help!
Our team proudly services all wigs, not just those bought in our wig shop in Virginia Beach!
We offer Follea, Jon Renau, Raquel Welch, Joli Cameleon, Sherri Renée, and HairUWear.
Ready to schedule an appointment?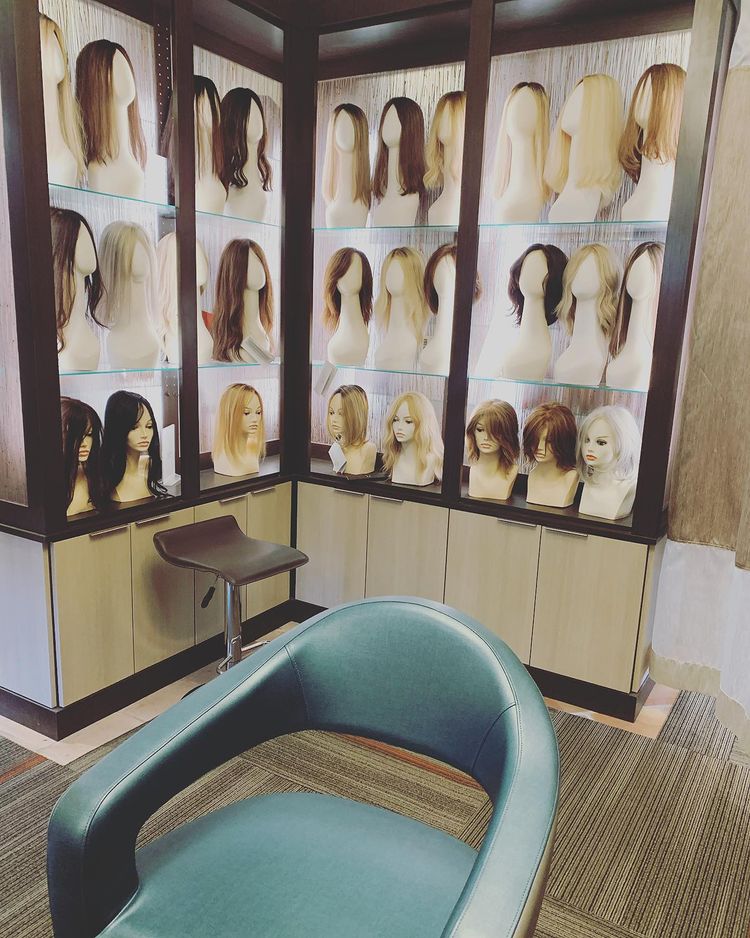 Wigs
Styling & Refresh Services……………………………………………$50 & Up
Wig Color Services…………………………………………$100 & Up
Wigs Sizing & Application………………….$400-$5000 & Up
Wigs, Hair Pieces & other custom items available!
***Complimentary head shaving for those going through cancer treatment.***
Wig Color Services
$100 & Up
No two looks are exactly the same. This is why we provide our guests with customized color to seamlessly blend their extensions or hair pieces with their unique look.
We will color and cut wigs, even ones you already own!
What's the difference between Synthetic, HD and Human Hair?
Human Hair wigs look and feel the most like natural hair. Human Hair Wigs may be colored, and highlighted to match your specific look. Their soft texture and the strands move naturally, are never stiff, and are not very heavy. Human Hair wigs require regular styling and are generally more expensive than synthetic versions. If you're looking for natural looking wigs that last  years, Human Hair Wigs are the choice for you.
Synthetic wigs are very close in appearance to human hair wigs. While Synthetic wigs are less durable and cannot be heat styled (they will melt) they also don't require much styling. Synthetic wigs come in set styles that keep their shape even after washing. This is very convenient for guests that don't enjoy or have time for styling their hair.
HD wigs are also synthetic but unlike plain synthetic, the HD versions can be heat styled with low heat. HD wigs will retain whatever style was last created with heat even after being washed. For example, if you used a curling iron to create waves, they will remain even after you wash them. Only when you use heat to restyle them, will the hair change shape. Synthetic and HD Synthetic wigs are generally less expensive than Human Hair wigs. They are not advised for those working around hot surfaces like ovens or other sources of heat because they can melt. Synthetic Hair very closely resembles human hair but may appear slightly shinier.
Are all wigs the same size?
No, wigs come in several sizes and it is best to have a professional take measurements prior to purchasing your wig. Many brands offer styles in ultra petite, petite, average, large and extra large. Most styles are available in average. Not every style will come in every size. By learning your size, you can quickly narrow down your shopping options by ruling out wigs that would not fit.
Please speak to a member of our Front Desk for reservations. 757-464-9400 for appointments
I've seen different types of Wig Caps. What are the differences?
There are five types of wig caps, and it is good to know which might suit your lifestyle and needs. When selecting your wig, it is wise to try on a few styles and a few brands to discover which type is best for you. Each cap will vary slightly from brand to brand.
Standard
The standard cap is the heaviest but it is also the most durable option. It has a closed flower net lace top and open wefting on the sides. The caps are made from a cotton-based material and the layers of hair are machine-sewn in. The style of this wig is pre set and the crown is often teased so that you cannot see through the hair to the cap. This teasing helps disguise the wig cap, as well as provide the wearer with extra volume at the crown.
Capless
The capless wigs are very common and usually very affordable. The crown, back and sides sport open wefting so the piece is light and well ventilated.
Monofilament
The monofilament cap is made from a thin, breathable nylon or polyester mesh material at the crown to create the illusion of scalp/skin. Since the scalp shows through the cap, the wearer enjoys a natural look. The hair is hand tied at the crown and may be parted and brushed in any direction.
Hand Tied
The hand-tied caps are excellent for people with hair loss and are very well suited for wearers with a sensitive scalp as it is a very comfortable option. The cap is mesh based and the strands of hair are hand tied. This design provides ample ventilation and is very lightweight.
Lace Front
The lace front caps create the most natural look available, but this clever design does make it the most expensive option. The hairline is so natural in appearance the wearer can even wear the hair up and off their face. This cap is not durable and requires more care. Wearers would benefit from using tape or wig adhesive to secure the wig in place.
How long will my wig last?
The longevity of your wig will greatly depend on how it is cared for but generally speaking, a synthetic wig is expected to last 3-6 months whereas a Human Hair wig will remain beautiful for several years with dedicated care.
Can my wig be colored?
Yes. All the Human Hair Wigs sold at Tousle, by Dupré's may be colored and highlighted. Often, guests will request a deep root to be added or lowlights, to create a look that feel more personal to them. Our team of Wig Specialists are trained in coloring wigs as well as cutting and styling. Synthetic wigs cannot be colored but are available in a huge array of colors.
What is the best way to place my wig?
If you have long hair, part it down the middle and section it as you would if you were styling your hair into pigtails. Pull each section tightly towards the neck until they cross over then pin them on the side of your head. Place wig cap and adjust as needed. Keeping the sections clean and smooth aids in the success and comfort of placement. When purchasing your wig, our staff will guide you through the process of placing your wig as well as make sure it is sized correctly.
If you have short hair, brush it all back and smooth it down. Place wig cap and adjust as needed. Again, as with the long hair application, the goal is to keep the natural hair sections smooth and close to the head.
Your Wig Specialist can help you decide if you should use additional wig tape or adhesives. Before leaving our shop, we will make sure the tension points in the wig are correctly adjusted for your unique head shape. Customized fittings are included in the purchase of your wig as a haircut.
How often should I wash my wig?
If worn daily, your wig should be gently washed once a week. If worn less frequently, wash every 7-10 wears. Always use the shampoo and condition recommended by your Wig Specialist. There are special versions for human hair and synthetic. Protect your investment, and use the products designed for your wig. We provide wash and style services. Please ask your Wig Specialist for details.
How should I store my wig when not wearing it?
Like most nice things, keep it in a clean, dry place and away from sunlight or heat sources. Heat sources will damage human hair and melt synthetic. Sunlight will fade color, creating an uneven appearance. We will provide you with a plastic stand to place your wig on that will aid in retaining shape however we strongly advise investing in a block head. We have excellent options available for purchases. If you need to store your wig and no stands are available to you, turn it inside out and place in a box.
I am about to undergo cancer treatment. Is there anything I should be aware of prior to making my purchase?
Planning ahead can provide reassurance. Our staff is trained and knowledgeable about the process and will help you find a wig that will adapt with your changing needs. Your wig should be adjustable so as your natural hair lessens, the wig size can be adjusted and the fit remains comfortable. Lace Front Caps may be a good choice if scalp sensitivity is a concern. Many insurance companies provide reimbursement for wigs during treatment and we advise reaching out to your company for details.
What makes one wig more expensive than another?
The price of a wig is greatly determined by two factors: Hair Quality and Cap Construction.
Hair Quality
Let's start with hair quality. The hair used varies from company to company. Jon Renau, Raquel Welch & Hair U Wear all use a 50/50 blend of Asian and Indian hair. When using Asian or Indian hair, companies often remove the cuticle from the strands to create a smoother strand of hair. While this makes hair less coarse it also comprises the integrity of the hair, giving your wig a shorter life. Follea wigs are made from 100% premium European hair. This is the absolute best grade of hair that is available in the world. The texture is healthy and smooth and their premium European hair has the cuticle intact. Their wigs are all hypoallergenic and hand tied. The superior quality of the hair will increase the cost of the wig but also increase the life of the wig when cared for properly.
When you, a friend or a loved one are in need of a wig, it is important to consider the natural hair's texture as well as the texture of the wig. Hair that is of Asian or Indian origin will have larger strands and a coarser texture. Follea will always be lighter, silkier and move more easily. All of the brands offered at Tousle by Dupres are top quality but their hair texture and density will vary and these differences will be reflected in the price.
Cap Construction
The second consideration is cap construction. Some wig styles have clever features added to their caps to make them more comfortable, breathable and stay on more securely. In some wigs, very thin pieces of silicon are added to provide extra grip, but for some guests, too much silicone may make their head too hot, while too little silicone may cause the wig to slide. Adjustable tabs may also be added above the ears to help create a secure, customized fit. For some guests, the ends of the tied hair poke through the wig cap and irritate their scalp. French caps have an extra layer of very thin and breathable fabric between the hair and the lining so that the hair never touches the scalp & irritation never occurs. These subtle differences create a comfortable wearing experience and should be considered prior to investing in a wig.
All sales are final. All wigs are available to view and try on in our wig shop in Virginia Beach, VA. Wigs purchased online will be shipped directly to your doorstep, anywhere across the US. If you see anything you like but require more information, give Tousle a call! We will happily answer any questions or concerns about our wig inventory.
Don't see the wig you are looking for? Our inventory increases daily. Give us a call or send an email to see what we have in stock!
*All Wig Sales are Final